A Saharawi human rights activists who has received several Norwegian delegations to occupied Western Sahara was severely injured from police beatings in Smara Friday night.
Published 20 April 2015
Ahmed Nasiri is a human rights activist in Western Sahara. After demonstrations in the town of Smara Friday 17 April, Nasiri was injured after beatings from Moroccan police. Nasiri's sons and wife were also beaten by police.

Early Satuday morning, the injured were taken in ambulance from Smara to a hospital in the southern Moroccan city in Guleimin. There, they were rejected by the hospital, and did not receive treatment.

Nasiri was then taken to a private clinic in Agadir, where the doctors concluded he had a broken nose. The doctors have now introduced a small iron bar in in his nose.

"First the police beat him in the head and in the face with a baton. After, while he was on the ground, they kicked him all over the body", Nasiri's wife Salekha Said told on phone to the Norwegian Support Committee for Western Sahara yesterday.

The wife had also received beatings with batons (photo below), and was caused injuries in the arm.

"When the blood was running from his face, the police officers withdrew somewhat", the wife told. Nasiri was himself not able to speak in phone with the Support Committee after the injuries. For a long time after the beatings, he has had respiratory problems.

One of the sons has received injuries in the head.

Ahmed Nasiri is formerly a political prisoners. He is one of 7 Saharawis who were arrested in October 2009 for having visited relatives in the refugee camps in Algeria, where half the Sahrawi people has been living for 40 years.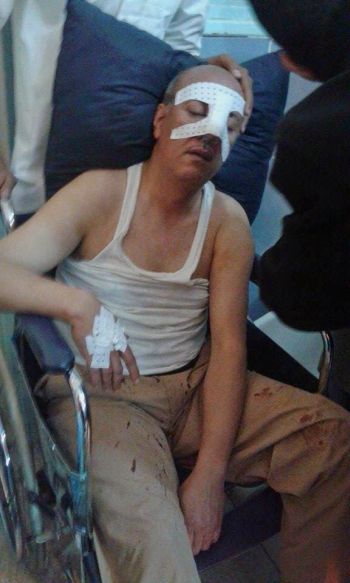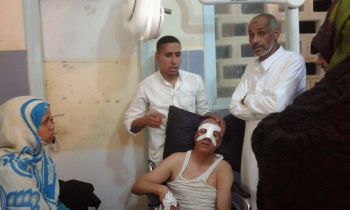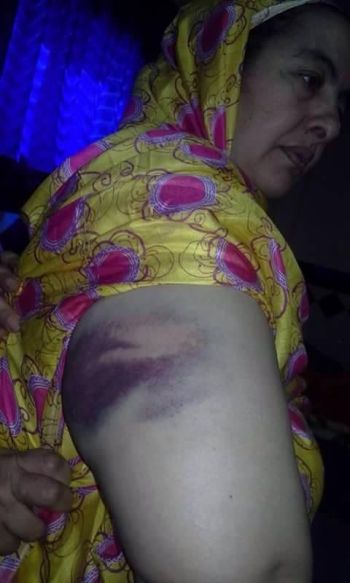 Below (from the left): Ali Salem Tamek, Ahmed Nasiri and Brahim Dahane liberated from jail in April 2011, after having spent 2 years in jail for visiting Algeria.