Sidi Mohammed Daddach, winner of the Rafto prize, was stoned and beaten senseless in Western Sahara yesterday. Birgitta Ersland, from Bergen, was right in the middle of the tumult. Bergens Tidende, 17 June 2008.
Published 18 June 2008
Beaten senseless: - Daddach was beaten on his right temple a number of times, resulting in loss of consciousness, said Norwegian Birgitta Ersland (19), here pictured together with Sidi Mohammed Daddach.
Bergens Tidende
17 June 2008
By Walter N. Wehus
Sidi Mohammed Daddach was on his way to visit Brahim Sabbar, another human rights activist, when he came into conflict with civilian police. Brahim Sabbar had been released from prison at 6 a.m., earlier in the day. He had been staying at a friend's house in the town of Layoune.
Both Daddach and Sabbar belong to the ethnic Sahrawi population of Western Sahara; a group that has suffered continual persecution from the occupying Moroccan authorities in their country
Punched and threw stones

There were 15 plain clothed policemen surrounding the area in which the house is situated when Daddach arrived. They were recognised as local security officers as one of them was wearing an emblem that is typically worn by them.
When Daddach was observed by the security men they began hurling abusive and insulting remarks at him, and wanted to stop and search him. Daddach turned and tried to walk away from the confrontation but was prevented from doing so when the security officers began attacking him by throwing stones. One of the stones struck him on the neck, and while he was bent over in pain he was beaten and punched to the ground. A number of blows to his head resulted in him losing consciousness.
Four people subjected to persecution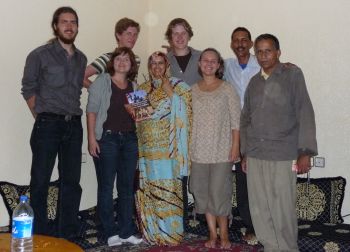 The above events were described by 19 year old Birgitta Ersland, who is part of a Norwegian delegation visiting and learning about living conditions for the Sahrawi people. Altogether there are six young Norwegians staying in the house of Sidi Mohammed Daddach in the town of Layoune.
"It is impossible to say, at the moment, how the situation will develop. Four people have so far been persecuted by the police, so I do not think anyone will attempt to enter the area for a while", she said to bt.no.
The delegation: Behind: Guilherme Camara (Norwegian Support Committee for Western Sahara), Jens Kihl (General-Secretary, Norsk Målungdom), Åsmund Aukrust (Norwegian Labour Youth), Brahim Dahane (president of ASVDH). In front (from the left) Hanne Moe Bjørnbet (Norwegian Labour Youth), Ghalia Djili (Vice-president ASVDH), Birgitta Lim Ersland (Norsk Målungdom) and Sidi Mohamed Daddach (Rafto prize laureate and president of CODAPSO).
Photo: Tor Erling BjørstadThe area she is referring to is the quarter in which Brahim Sabbar is now staying with his family. The police have sealed off all the roads leading into the quarter and no one is allowed to pass the blockades.
"He has more or less ended up in a new prison", said Ersland.
A tremendous strain

Arne Liljedahl Lynngård, the chairman of the Rafto Foundation's Prize Committee, is concerned about the situation in Western Sahara.
"Although I am saddened, I am not surprised by the situation. This is just one more incident that confirms the politics of oppression that Morocco conducts in Western Sahara. That Daddach is not allowed to visit anyone he wishes is a clear breach of his fundamental rights", he said.
He expresses the opinion that this is a pattern that has been evident for a long time, but it is now becoming increasingly clearer.
"There is a tremendous strain put on human rights activists in Western Sahara. They are subjected to surveillance, frequent arrest, harassment, and people lose their jobs for having contact with foreigners", said Lynngård.
Possible concussion

According to Birgitta Ersland, Daddach is on his feet tonight but it is possible that he has a concussion of the brain after being beaten. He is suffering a hearing defect in one ear.
In the meantime Saddar is, in effect, under house arrest and will probably remain so until Saturday; when a reception in his honour is planned. Amnesty and other human rights groups are to attend, and Ersland doubts that the authorities will attempt to disrupt the event.
"However, it is difficult to be sure", she said, "one must be prepared for all eventualities here."
The Norwegian delegation plans to travel on to Marrakech on Thursday. They are also considering to visit Sabbar.
- We run the risk of deportation, said Ersland, but we are on the way home by then anyway.
Facts
* Sidi Mohammed Daddach received the Rafto Prize in 2002 for his work concerning the Sahrawi peoples rights in the Western Sahara, occupied by Morocco.
* The Sahrawi peoples struggle is supported by, among others, the Norwegian organisation 'Norsk Målungdom', who have two representatives with the Norwegian delegation presently in Western Sahara.
* In addition, the delegation is composed of two persons from the Norwegian Labour Party Youth league, one from Refugee Aid, and one from the Young Liberals of Norway.
* Brahim Sabbar, who was released from prison this morning, is the general secretary of ASVDH (The Sahrawi Association of Victims of Grave Human Rights Violations Committed by the Moroccan State).
* You can read more about Daddach at the Rafto Foundations Home Page.
Translated from Norwegian by the Norwegian Support Committee for Western Sahara.