Sahrawis in Norway are asking Bergen-owned Gearbulk shipping company to stop trading with Western Sahara. They believe such trade maintains the brutal occupation.
Published 16 June 2008
Demonstrating: Sidiahmed Salem (in middle, with brochures) nurses a hope that Nora and Sirin can grow up in a free Western Sahara. Saturday they showed their dissatisfaction with the partly Jebsen-owned shipping company Gearbulk.
Bergens Tidende
15 June 2008
By: Kjartan Hjermann Døhlie
Photo: Paul Amundsen
Read Norwegian original here.
On Saturday the Association for Sahrawis in Norway arranged a demonstration in Bergen. The association believes that international companies enable Moroccan authorities to maintain the occupation.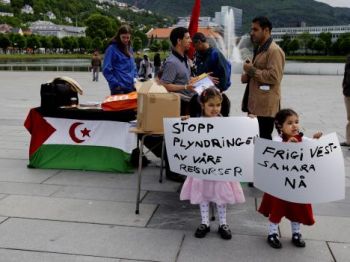 "Morocco earns billions on the occupation, and companies like Gearbulk make money transporting phosphate for Morocco. If it weren't for these companies, we would have our freedom," the leader of the organisation, Sidihamed Salem, said.
Imprisonment and Torture
Western Sahara, or the Sahrawi Arabic Democratic Republic, has been occupied by Morocco since 1975. The leader of the Norwegian Support Committee for Western Sahara, Ronny Hansen, spoke of a people under total surveillance. "There is no freedom to organise or freedom of movement. Those who protest are imprisoned and tortured. More than 500 people have "disappeared"," Hansen said.
The majority of Sahrawis, the area's inhabitants, have been put to flight. About 160,000 have lived in refugee camps in the Algerian desert for more than 30 years.
"There are temperatures of close to 60°C during the summer and below freezing in the winter. They are completely dependent on help. Nineteen per cent of the children are malnourished. That is more than in Darfur," Hansen said. He believes that the large phosphate deposits in the country constitute an important reason for the occupation. It is these that Jebsen-owned Gearbulk makes good money transporting.
Occupied for 33 Years
* Western Sahara, or the Sahrawi Arabic Democratic Republic, has been occupied by Morocco since 1975.
* The UN has denounced the occupation.
* Today 100,000 Sahrawis live in Western Sahara and 160,000 in refugee camps in Algeria.
* There are 160,000 Moroccan soldiers and 400,000 Moroccan settlers in the area.
* Western Sahara is rich in natural resources, among other things large amounts of phosphate.
* The Norwegian Foreign Office advises against trade with the Moroccan authorities in the country.
Source: The Norwegian Support Committee for Western Sahara and the Norwegian Ministry of Foreign Affairs.
Facts: Gearbulk
* Gearbulk is an international shipping company with headquarters in England.
* The Bergen-based Jebsen family owns 60% of the company. The remaining 40% is owned by Korean interests.
* The Norwegian Support Committee for Western Sahara believes that since 2002 Gearbulk has earned about 1 billion Norwegian kroners [200 million USD] on phosphate transport from Western Sahara. They demand that Gearbulk pay this amount back to the refugees from Western Sahara.
Source: Gearbulk.com and the Norwegian Support Committee for Western Sahara.
Foreign Office Advises against Trade
"I have seldom seen worse cynicism. Other Norwegian companies have pulled out. Gearbulk doesn't care," Hansen said.
The Norwegian Ministry of Foreign Affairs advises against trade with Western Sahara. "It can be in conflict with international law to carry out trade with Western Sahara," according to Bjørn Jahnsen, Assistant Director General of the Ministry of Foreign Affairs.
Jan Egeland, Director of the Norwegian Institute of International Affairs, has called Western Sahara a forgotten conflict. "There is no solution in sight for these people, who have been abandoned by the international community for several decades. The situation for the refugees is deteriorating, and there is a danger of radicalisation. They could leave the negotiations and return to the battlefield," Egeland said.
"What do you think of companies that make a profit on this situation?"
"It is debatable whether it is in conflict with international law, but I think it is immoral. It is totally wrong to make money by trading with disputed and occupied land."
Has Hopes
Sidihamed Salem hopes that consciousness-raising among people can lead the Bergen shipowner to stop trading with Morocco. Salem fled to Norway 10 years ago after having been imprisoned and tortured in his native country.
"There are many thousands like me. Now Sahrawis would rather drown on the way to the Canary Islands than live in their native country. We have lived with this brutality for 30 years. The shipowners must consider that," Salem said.
He dreams of someday being able to move back to his native country. "Even though it is just desert, there no place like the desert in Western Sahara."
Bergens Tidende was unable to get hold of Gearbulk's board chairman, Kristian Jebsen, on Saturday. He has earlier said that the company is interested in doing business within the laws and rules that apply. "That is also what we have done in this case. The British Foreign Office has stated that trade with the Moroccan occupying power in Western Sahara is not advised, but there is no embargo against such trade," Jebsen told Norwatch.no.
Translated to English by Western Sahara Resource Watch