Leader of the El Aaiun branch of the Moroccan Association of Human Rights, Mr. Iguilid Hammoud, was, on May 10th, detained by the police, interrogated and then released outside of town.
Published 12 May 2008
Iduilid Hammoud, 44, is a prominent human rights activist in Western Sahara. He is a member of the Sahrawi human rights organisation CODESA and the leader of the El Aaiun branch of the Moroccan Association for Human Rights (AMDH).
According to a release from CODESA, he was, at 8pm on May 10th, abducted by the Moroccan authorities in El Aaiun, Western Sahara.
As often happens after interrogations of Sahrawis, the police confiscated his belongings, and dumped him outside of the city center.
This is what CODESA reported: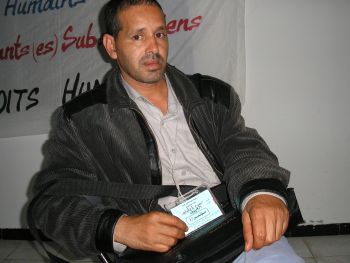 "Mr. Iguilid was surprised by four Moroccan police members in plainclothes who blindfolded and handcuffed him, and then threw him violently in the police car. He knows these agents very well, for they had already abducted him in many occasions, the latest of which was in March 2008 while the association was preparing to organise an awareness activity supervised by a member of the association central bureau.

There were more police agents whom he does not know and who interrogated him about the participation of the AMDH, El Aaiun Branch, on the First of May in the celebrations of the Labourers Day. The interrogation lasted for one whole hour although he did know the reason for all that. He protested against his illegal abduction and mistreatment.

An hour later, Mr. Iguilid was left in a remote area at the outskirts of the city after he was denied to get back his money, a USB, a bank paper and a complaint document of a Sahrawi citizen. These things had already been confiscated by the police during the interrogation."