Last week, Haddi Yarba, a Sociology student was struck on the head with a stone. Now he has problems finding the words.
Published 28 April 2008

At five thirty in the evening on Wednesday 23 April, the 26 year old Sahrawi Sociology student, Haddi Yarba, was struck on the head with a stone.

Information received by the Norwegian Support Committee for Western Sahara indicates that the attack resulted in an internal haemorrhage to his brain. His fellow students inform that he now suffers from speech impairment. He has problems with remembering words and also in articulation.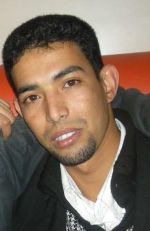 Yarba was hospitalised for two days after the attack.

Yarba was a participant in a Sahrawi student demonstration at the University in Marrakech.

The release of a Saharawi student, Kahlihina AbuAlhassan, who was arrested on 13 April, was one of a number of demands made.
Sahrawi students at the University have been regularly attacked by Moroccan gangs over the past few weeks. They also demand that these unprovoked attacks should cease.

Arrested
During the month of April, Sahrawi students from other towns have travelled to Marrakech in order to display their solidarity and to participate in the demonstration.

One of them was, 26 year old Baihada Loujaj (on the right).

On the evening of Friday 25 April, Loujaj was immediately arrested by the police on his arrival, by train, in Marrakech. His fellow students had heard nothing from him by Sunday, and are uncertain as to his whereabouts.

Loujaj travelled directly to Marrakech from the University in Statt, not far from Casablanca, where he is studying for a Masters degree in Law.