Yarba had the incorrect opinions when he arrived El Aaiun airport, but managed to get 4 minutes with his family.
Published 20 April 2008
Yarba Mahfud Mohamed is from Western Sahara but lives in Spain. During the war between Morocco and the liberation movement Polisario, Yarba was injured, and since then he has been in a wheelchair.

On 18 March this year he flew to El Aaiun in occupied Western Sahara to meet his relatives. But it did not work out as he had hoped. Yarba was not welcome in the occupied areas. Thanks to the insistence of his family, who was waiting in the arrivals hall, he got to spend 4 valuable minutes with his loved ones before the Moroccan police put him back on the plane and sent him out of the country.

Yarba's testimony below is from the Spanish blog Poemario.

After having obtained the necessary travel documents by legal means in Spain, I decided to use the Easter holidays to travel to El Aauin, the capital of Western Sahara, to visit my loved ones, whom I had not seen for many years because of the unjust occupation of my country.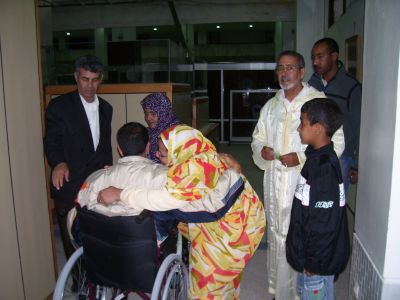 Like any other citizen, I went to the airport with the hope of finally realizing the dream I had had for so long. It all started on 18 March 2008 at 23:55, when the plane took off for Casablanca. I checked that all my papers were in order to avoid misunderstandings.

On arrival in El Aauin, I was stopped because I had not signed a declaration that the Moroccan authorities had given me, and which they said was required to obtain permission to enter the country: "I am a Sahrawi who is returning home in order to beg the king's forgiveness," it said. After checking the general situation, with plainclothes policemen, and on the basis of the degrading manner in which they treated me, I understood that I only had one alternative: to return to Spain. The worst part was to see my loved ones there behind a dirty glass wall, without being able to being able to do anything. I had hoped to at least get an embrace. I turned to one of the policemen and made it clear that this was not the way to treat a human being, and that such treatment only leads to more hate.

The policeman answered me, "If you don't wish to remain here, there is only one other possibility, and that is to return to where you came from."

At the same time my relatives did what they could to meet me. Their despair led to crying and screaming, and I became angry and sad. In all the confusion, some of my relatives managed to get past the barrier, but they pulled them back in a disgraceful manner, and me they pushed over in a corner.

A few minutes later a plane came in from Dakhla, and they loaded me aboard, on the way to Casablanca. In Casablanca they interrogated me again, and again they tried to convince me that I was "a returning Sahrawi", which they wanted me to confirm. But that is the last thing I would do.

They asked me many questions, such as whether I had received any education in the military service and, if so, at which school. I told them the truth, that I had been educated at the military school 'Martyr Luali Mustafa Sayed'.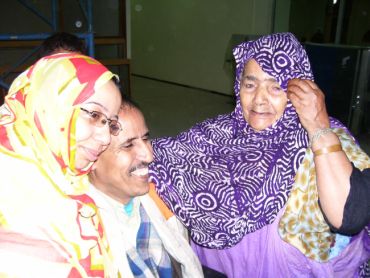 Then they took away my wheelchair and left me helpless in a chair. This shows the shameful treatment they exposed a disabled person to.

In Morocco anything can happen, especially when it comes to human rights. Angry and sad I returned home to Barcelona the morning of 19 March, well aware that I had been close to realising my dream of being with my dear relatives, whom I had only been allowed to see for a few minutes; they greeted me one by one, as in the photo.

The Moroccan authorities sent me back home with an even stronger longing.

Translated from Spanish by the Norwegian Support Committee for Western Sahara.