Said Mustafa El Baillal (29), studying for a Doctorate in Social Sciences, has received a severe prison sentence.

Published 28 January 2008
Said was arrested by the Moroccan Security forces in Western Sahara on 26 December 2007; his family were not informed until 3 days later.

By that time he had been transported out of Western Sahara and was being detained at a police station in Rabat. Said's father was allowed to visit him there and was told by his son that he had been handcuffed and blindfolded during the entire journey.

They had, however, stopped in Agadir for two days on the way, where he had been subjected to intensive interrogation and sleep deprivation.

He arrived in Rabat on 29 December 2007, where he was again subjected to a new round of interrogation that continued until 4 a.m. the following morning. He was finally incarcerated in Zaki prison in the city of Salé.

According to the Sahrawi human rights organisation ASVDH, Baillal was finally sentenced by the Court in Rabat "for having participated in the 12th Congress of the Polisario Front; for being a member of the Polisario Front; for mobilising and participating in armed groups and for injuring public servants while in performance of their duties".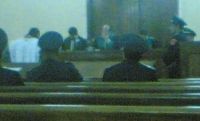 The final judgement given in the Court (on the right) was handed down on the 14 January 2008. He was given an 8 months unconditional prison sentence and a fine of 500 Moroccan dirham.

Said was not present in the Court during his trial, and the Court gave no explanation as to the reason for his absence during the proceedings. The Norwegian Support Committee for Western Sahara has heard that a lawyer from the leading Moroccan human rights organisation AMDH was present during the trial. A number of Sahrawi activists and students were barred from attending the Court proceedings.

El Baillal, a student at the Moroccan University Med V in Rabat, has been under police observation since the Sahrawi student demonstrations of May 2007.

El Baillal has participated in a number of demonstrations in support for self-determination in Western Sahara, and he is also a member of the network Comité Sahraoul pour le Soutien à l'Autodétermination au Sahara Occidental (CODAPSO).

Sahrawi students, attending various educational establishments in Morocco, have protested against the Court's judgement.

The photograph below was taken in Rabat on 14 January 2008