Elkouria Amidane's mother, and her two sisters, aged 14 and 24, have been released from police custody. "I called my Mother today. She could hardly speak. She had screamed so much during the interrogation that her voice was failing."
Published 12 November 2007
The three family members were released last Saturday, after having been interrogated and tortured by the Moroccan police.

They had been beaten by police interrogators during their imprisonment. Amidane had a telephone conversation with the family members on Sunday. Read a summary of their conversation below.

Amidane's brother is still behind bars after having been sentenced to 5 years imprisonment last summer,

Click on the photographs for a higher resolution image.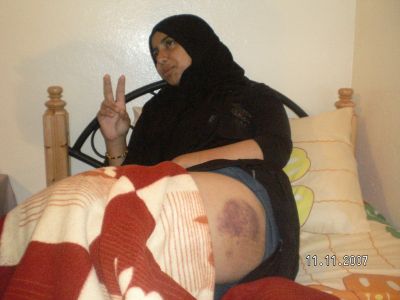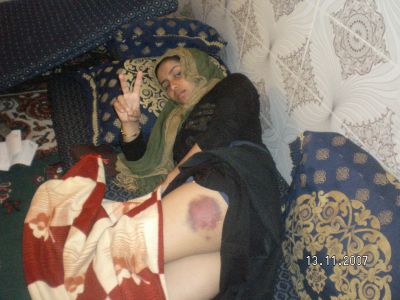 .Amidane's account of her telephone conversation with her family:

"About one o'clock on Friday afternoon the Moroccan police arrived in our neighbourhood. They took immediate steps to ensure that no one could enter or leave the area, and then they started beating-up on several Saharawis that happened to be out and about at that time.

Some of the policemen climbed up on the roof of our house, and broke their way in through the roof-door. They then opened the main entrance door, allowing the rest of their colleagues to enter our home.

The police started a brutal beating of everyone inside our house.

Our neighbours could hear the screams of my family as they begged for help, but none of our neighbours dared intervene because of the large police presence.
Our neighbours witnessed my family being dragged outside of their home and beaten in public.

Some of the policemen were dressed in civilian clothes. My mother, my sisters and my cousin were all dragged by their hair and manhandled into a police transport.

They were driven to a police station, but they could not tell for how long they were held in custody as they were physically and mentally exhausted after the experience.

The police tore the women's clothes off (melhfaes, traditional Saharawi clothes), followed by threats to rape my mother, one of my sisters, my cousin, and my neighbour Ghalina.

My cousin had been released much earlier than the others. I therefore called her on Friday evening in order to find out what had happened. She told me that when she left, my Mother was screaming and in great physical pain. My youngest sister had also been badly beaten.

My cousin had no knowledge of my other sister's (Minatu) condition because she had been kept in a different room.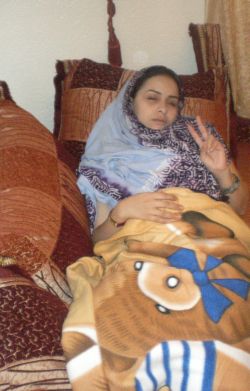 The men that had been arrested had been stripped naked and sexually tortured. They were in a different room, but my cousin could hear all that was said. She could hear them begging the police to stop.

I called my Mother today. She could hardly speak. She had screamed so much under interrogation that her voice was failing. She says that the police had done many terrible things to them. My mother had been to the hospital today for treatment.

My youngest sister, Minatu, was very ill due to the beatings, and having to spend the night on a cold, wet, prison floor.

My older sister, Minatu, (seen on the right), told me that she had passed out several times during the interrogation - caused by severe blows to the head and neck.
On regaining consciousness she had found herself lying on the floor of a filthy toilet.

The police were eager to obtain information about the demonstrations that had taken place the same day.

They were interested in finding out who was responsible for the planning, who had taken a camera with them, who had participated. Why did human rights activists come to see us, and what was our relationship to them."