"We have a dream today to see the rise of our colorful flag and to see freedom reigns in our capital city of El Aaiun in a Free Western Sahara soon." The Sahrawi student Agaila Abba Hemeida spoke to the UN.
Published 07 November 2007
United Nations Hearing on the Western Sahara
Special Political and Decolonization IV Committee

Statement by by Agaila Abba Hemeida
Sahrawi student in the US
October 9-10, 2007

Mr. Chairman and members of the Special Political and Decolonization Committee,

It a great honor to be here today as an advocate for the Saharawi people.

My name is Agaila Abba. I was born in one of the biggest refugee camps in the world. It is located in southwestern Algeria, where the temperature can reach 130 degrees. It has existed for 32 years. When I was two years old my father was killed in the war between Morocco and Western Sahara. Losing my father was one of the hardest things that I had gone through in my life. Not only did I lose my father, but I have also suffered hearing lost. While growing up in the camps I had ear infections, doctors later found that the infections had affected my eardrums and actually became a life threatening. Fortunately I came to the United States where surgery was performed on both of my ears.

In addition to this loses it was hard to see my mother, a widow suffering from heart problems, having to take care of my brother and me all by herself. Sometimes she did not have food to give us to eat or clothes to wear. My family and I were not the only ones who had to go through this kind of hardship. Our neighbors experienced this along with thousands of other Saharawi people. I saw them suffer in the inhospitable conditions of the refugee camps. I saw them suffer when rain caused flooding, destroying our mud houses and tents and leaving thousands of Saharawis homeless. I saw them suffer because of the lack of food, medicine and shelter. I saw babies die right after birth without a chance to enjoy the life that they were meant to live. I saw mothers losing their husbands and sons and daughters, and children losing their parents and spending their lives as orphans.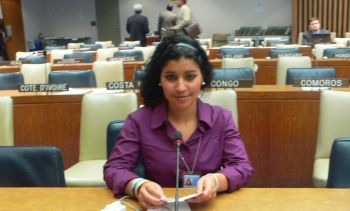 Not only are the Saharawi people in the refugee camps suffering, but also the Saharawis in the occupied territory. People from all ages are tortured and put in prisons. They are tortured with electric shocks, given drugs and humiliated while being interrogated by the Moroccan Police. Women have been taken away from their children and unjustly imprisoned, and missing their most important stage of growth. The Saharawi identity and culture is ridiculed and made fun of, and they are insulted with the most disgusting words that could exist in our world today.

Mr. Chairman and the members of the Committee,

All this violence by the Moroccan Police is becoming part of the Saharawi people's daily life. It is making it difficult to walk in the street because the fear for their lives and the lives of their loved ones. This past year many human rights organizations have published reports that showed the evidence of human right violations that the Moroccan regime has been committing against the Saharawis in the occupied territory. Saharawis have been beaten, tortured and imprisoned because they raised the Saharawi flag or they spoke against the Morocco's illegal occupation of Western Sahara. This occupation started with the Green March in 1975. An occupation that bombed, shut, raped, burned and destroyed when it started and it continues today.

An Occupation that took our land and left us homeless.
An Occupation that has forbidden the beauty of our freedom.
An Occupation that took the blessing of our resources and left us dependent on humanitarian aid.
An Occupation that forced the separation of our nation, half in the occupied territories and half in the refugee camps; both waiting for the promised referendum to self-determination. A referendum that would allow us to return to a free Western Sahara. This promise gave us a hope of freedom, returning our smile back by bringing so much hope and joy that we celebrated this promise by raising our flag, turbans and Melfas that night when we heard on the national radio about the agreement for a national referendum. When we heard about the referendum we started packing our few belonging, thinking that our long nightmare of waiting would be over, and that our dream of returning to our land to see our beloved ones soon would become true. But that dream was crushed and the nightmare continues just as it has for the past 32 years and leaving thousands of Saharawi people, men and women, old and young waiting without a future.

Mr. Chairman and the members of the Committee,

Even as the nightmare continues daily, marking it own dark history, using its own hand to crush our dreams with a goal of taking our hopes away and making the Saharawi people wait in the heat of the sun for a promise of the referendum that hangs in the air leaving its own truth and principle of doing justice against colonialism, against the occupation and giving the people the key of liberation and the gift of self-determination. Even to this day we have not lost hope. This hope is the determination that is written in the hearts of every Saharawi person.

As Martin Luther King said a half century ago "I have a dream today." We the Saharawi have a dream today, for the present moment and for the future, for our children of the upcoming generations.

A dream to overcome the root of the nightmare.
A dream to restore the beauty of our Saharawi identity.
A dream to celebrate our Saharawi culture without being insulted.
A dream to govern our resources and the ability to be able to share it with the widows and orphans.
A dream to see our children's smile again and have a nation to call their own
Again as Martin Luther King said half century ago "I have a dream that one day this nation will rise up and live out the true meaning of its creed" We [the Saharawi] also have a dream today to see the rise of our colorful flag and to see freedom reigns in our capital city of Layooun in a Free Western Sahara soon.

Thank you for your attention!