Check out photo of the new walls around the university area. Students fear they can no longer stage demonstrations.
Published 31 October 2007
Click the photos to enlarge.
"The fortifications around the university are now much stronger than before", said a student to the Norwegian Support Committee.
The students discovered the new structures when they came to register at the university in October. The photo was taken last week.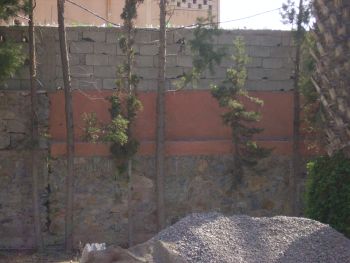 "The walls around the university campus are built much longer, and on the top of the walls they have put broken glass and iron, so that no one of the students can jump to escape".
During previous police attacks, Sahrawi demonstrating students have escaped out of the campus area by jumping over the fence. Now, that is not longer possible.
"Also, the gate of the faculty near the campus has been closed by a wall. Now there is only one gate out of the faculty and it's being watched by the police. The Sahrawi students are now very worried about how coming demonstrations can they be staged", said the student.
In May this year, dozens of Sahrawi student in Marrakech were beaten or detained after a police demonstration. One of the students lost her eye after police beatings.