The political prisoner El Ouali Amidane applied to be transferred to a prison in Agadir, in order to pursue his studies. The demand was turned down by the prison authorities. Yesterday he started a hunger strike, demanding his right to study.
Read also: El Ouali transferred -but to wrong prison
Published 20 September 2007
It is impossible to study in the over-crowded prison in El Aaiun. The prison guards regularly confiscate the prisoners' books, and there are no teachers available to carry out the exams.

Prisoners who want to study have therefore normally been transferred to prisons in Morocco, where prison standards are substantially better, and where exams can be practically carried out.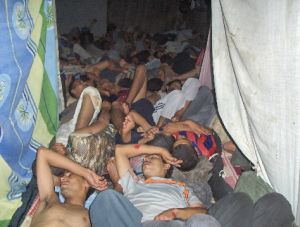 But the political prisoner El Ouali Amidane has not been granted his demand for transfer to a better prison. 21 year old El Ouali Amidane -brother of Elkouria Amidane who visited Norway this summer- has now been rejected his application for transfer to the Ait Melloul prison in Agadir. Yesterday, September 17th, El Ouali initiated a hunger strike in protest of the Ministry of Justice's decision.

According to Moroccan legislation, all prisoners have the right to study while in prison. This right is not respected in Western Sahara.

Amidane says to the Norwegian Support Committee for Western Sahara that she is worried about the brother's health -who has been struggling with asthma for years.

El Ouali was sentenced to 5 years of jail in April, after having participated in a peaceful demonstration for self-determination. El Ouali is an active member of the Sahrawi human rights organisation CODESA.