Wednesday afternoon, the Norwegian Ministry of Foreign affairs publicized on their webpages an announcement that they discourage Norwegian businesses from operating in Western Sahara. The statement was made at the same time as another Norwegian vessel was discovered transporting phosphates to New Zealand. See Norwatch films of the Norwegian phosphate exports, taken in New Zealand Wednesday.
Published 18 September 2007
By Erik Hagen
Norwatch, 12 Sept 2007

"I have now been looking at the homepages of the Norwegian Ministry of Foreign affairs to find anything about the Western Sahara discouragement, but cannot find anything", said a Norwegian shipping operator in June when Norwatch caught his company in the act this year. His company was at the time transporting frozen fish from the Moroccan occupied Western Sahara to Turkey.

Norwatch wrote in June that the Norwegian government's advice to refrain from business activities in Western Sahara were not published anywhere on their homepages. Therefore, there has been some confusion as to what the Norwegian Ministry of Foreign Affair has really meant about the issue. The Ministry, however, took the hint, and on September 12th, the Ministry published their Western Sahara statement on their homepages.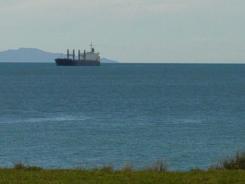 The statement comes at the same time as the shipping company Gearbulk (partly owned by the Norwegian Jebsen family), continues its shipments of phosphate to New Zealand. Wednesday September 12th, the vessel 'Bulk Jupiter' arrived the New Zealand harbour of Tauranga with phosphate from the occupied country. Norwatch has received film and photo material of the boat sailing in to and discharging in Tauranga. The video clips below were taken Wednesday afternoon Norwegian time. The vessel started directly to offload the phosphates, for a local fertilizer producer onshore.

This is the fourth time during the last year and a half that Gearbulk transports phosphates from Western Sahara to New Zealand. Two of Gearbulk's other vessels, 'Bulk Saturn' and 'Bulk Sirius', have already carried out similar shipments. From what Norwatch can establish, the total cargo of the four shipments, has reached somewhere around 130.000 tonnes of phosphates.

"As an international company, it is not natural for us to consult Norwegian authorities on questions relating to affairs outside of Norway. Even though trade with the Moroccan occupying power in Western Sahara is not recommendable, it is not illegal either", said the Gearbulk president, Kristian Jebsen, to Norwegian broadcaster TV2 last week.

At that time, the boat was still on its way to the Pacific nation.

More rigorous
When Gearbulk made another shipment in June, the Norwegian Shipowners' Association contacted the government for advice. In the reply letter, which Norwatch has seen, the Ministry of Foreign Affairs stated that they have recently implemented a more rigorous on the Western Sahara issue. The change was decided in October last year, when they went from "not advising" to "discouraging" the controversial trade.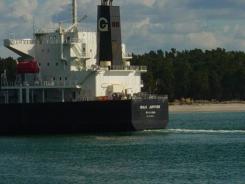 "Norway sees it as important to refrain from actions that can be seen as a legitimization of the situation in Western Sahara. In order to prevent trade, investments, resource exploitation and other forms of business that are not in accordance with the local population's interests and accordingly can be in violation of international law, the Norwegian authorities discourage such activities", the Ministry announced on its homepages Wednesday.

Video clips of 'Bulk Jupiter' sailing in to Port of Tauranga, New Zealand:
Video 1: "Here we are at the Mount Mauganui, New Zealand, and here is the 'Bulk Jupiter'. A Gearbulk ship, as you can see there on the chimney. It is discharging illegally gained phosphate rock here at this large port complex. There is another vessel, just at the side here. And there is a view of our wonderful mountain Mount Maunganui..."

Video 2: "Here we have the 'Bulk Jupiter' discharging illegally gained phosphate from Western Sahara, it's Mount Maunganui, New Zealand."

Video 3: 'Bulk Jupiter'.

Video 4: 'Bulk Jupiter' sailing in to Port of Tauranga.

Film material belongs to www.norwatch.no.

[Translated from Norwegian by the Norwegian Support Committee for Western Sahara]