From: "Unknown harbour in Morocco". That is how Western Sahara fish oil that reaches Norway is registered. Western Sahara is occupied by Morocco, and Norwegian authorities advise against the trade.
Published 24 January 2007
By Erik Hagen,
Norwatch
22.01.2007

According to the Kristiansund-based fish-oil importer GC Rieber, most of the company's North African fish oil is imported from the Moroccan cities of Tan Tan and Agadir. Only exceptionally, when there is ebb tide and bad weather in the small harbour in Tan Tan, is the oil shipped out from Western Sahara's capital El Aaiun. But Norwegian registries and statistics tell another story.

Norwatch has attempted to chart how much fish oil GC Rieber has imported from Western Sahara and Morocco, and which ships reached Kristiansund from the region between 1 January 2005 and 1 July 2006. The preliminary results are astounding.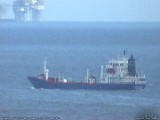 Statistics show that at least two ships definitely came from the city El Aaiun in occupied Western Sahara. These two ships arrived in the course of 2005. One of the ships was observed by a British web camera on its way to the occupied region in October 2005 (see photo).

What is most interesting is nevertheless all that the statistics do not show. For example, the information that Norwatch has obtained shows that none of the ships that reached Norway in the time span has been registered as originating from Tan Tan. And only a single ship has arrived with fish oil from Agadir. According to GC Rieber, these two Moroccan cities are supposed to be their most important harbours in the region.

Inaccurate
Either the harbour authorities' registries must be incomplete or incorrect or Tan Tan and Agadir can not possibly be the leading cities within fish-oil export to GC Rieber. Alternatively, the fish oil reaches Norway by way of harbours in the EU.

That there may be inaccuracies in the harbour registries, Norwatch can confirm. The local harbours in Norway are not required to report which harbour in Morocco or Western Sahara the ships come from. As a consequence, errors quickly crop up in the statistics.

In the 18-month period Norwatch has examined, Statistics Norway registered 44 ship arrivals in Norway whose last port of call was Morocco (including Western Sahara). Most of the ships carried bulk or general cargo transport from cities in North Morocco, thereby precluding possible fish-oil transport. Of the relevant arrivals there are only a few ships that could have arrived from Western Sahara or that would be able to transport fish oil.

A supplementary round of calls to Norwegian Food Safety Authority, the customs authorities, The Norwegian Coastal Administration, and Kristiansund and Normøre Harbour IKS contributed in completing the picture. Almost all the possible ships that could have arrived in Norway with fish oil have arrived at Kristiansund and Normøre Harbour IKS. And all these potential ships have contained fish oil for the import company GC Rieber.

Four Ships
When the ship West Lynda arrived in Kristiansund on 21 March 2005, it was, for example, registered as coming "from unknown harbour in Morocco", according to the registries for Kristiansund harbour. From what Norwatch can ascertain, The Norwegian Coastal Administration had registered the ship as coming from France, a country that does not normally export a single drop of fish oil to Norway. The pilot ship that led the ship into Kristiansund harbour, however, had noted that it came from El Aaiun - in other words, from occupied Western Sahara. The ship brought fish oil for the company that today is called GC Rieber.

The Apache 1, a Malta-registered ship, arrived in Kristiansund with fish oil on 21 October 2005. A camera in Liverpool photographed the ship (see photo) by chance 12 days before it reached Kristiansund. The picture was taken with an automatic web camera at a distance of 7 km. Then the vessel was on its way to El Aaiun to fetch its cargo. (On the Liverpool web page El Aaiun is written in the Moroccan-French manner as "Laayoune".) The local broker in Kristiansund, Shipping Service Kristiansund, confirmed the delivery to Norwatch.

The Icelandic ship Frigg usually sails between harbours in Norway, but both on 6 October 2005 and on 2 January 2006 the ship had long hauls. It then returned home with fish oil from abroad. On both occasions the recipient of the cargo was GC Rieber, but on both occasions Kristiansund harbour had registered it as arriving from "unknown harbour in Morocco". The Bergen shipping firm Utkilen Shipping, which assisted the Icelandic owners with the Frigg deliveries, does not wish to help Norwatch ascertain where the ship had fetched its cargo on those two occasions.