Four youth politicians from the The Norwegian Young Conservatives and Christian Democrat Youth (KrFU) of Norway were at 16:30 today stopped by Moroccan police and refused access to occupied Western Sahara.
Published 22 January 2017
Click on images for high resolution. Can be used freely.

"It is hopeless. The police did not give us any reasons, they just said that Norwegians and Swedes are unwanted in the south of Morocco", Mr. Kristian Sveistrup of the international committee of the Christian Democrat Youth of Norway explained.


The group of four traveled from Agadir in a rental car this morning, and arrived at a checkpoint in Tantan, in southern Morocco, 16:00 Sunday afternoon. They were held at the checkpoint for half an hour, before they were denied to travel further south.

"We wanted to travel to Western Sahara to witness with our own eyes how Morocco is suppressing the Saharawi people. It is hard to understand why Norwegian companies are operating in the territory despite the recommendation by Norwegian authorities to stay away. The people of Western Sahara has the right to manage their own resources the way they wish to", Mr. Rolf-Jonas Ringen Kristiansen says. Kristiansen is the president of the Conservative Youth of the region of Østfold.

"You feel quite powerless. It is impossible to grasp and accept that we - without any form of explanation - are denied. It clearly shows hat the authorities are trying to censor what's happening in Western Sahara", Snorre Sandberg, board member of the
Akershus chapter of the Students' League of the Conservative Party of Norway.

They told that nine police officers refused them further access.

"Some of them spoke English, but they were ordered by their superiors to not speak to us", Daniel Fladvad told, board member of Akershus Conservative Youth, explaining that the group now will protest vis-a-vis Moroccan authorities.

This is the third group of Norwegians kicked out of Western Sahara during the the last 24 hours.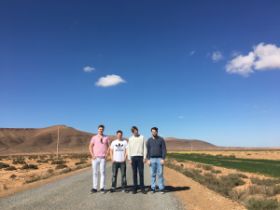 During the last few weeks, international media have been covering the involvement of the Norwegian owned and managed vessel Key Bay, transporting fish oil from Western Sahara to Norway. The vessel is owned by the company Gezina in Farsund, chartered by Sea Tank Chartering in Bergen. Sea Tank has managed numerous shipments of fish oil from the territory into France. Their latest shipment is to arrive Fécamp port this week.

Last year, the leader of Conservative Youth of Norway, Kristian Tonning Riise, deported from the occupied territory by Moroccan police.

On picture, from the left: Snorre Sandberg, Daniel Fladvad, Kristian Sveistrup, Rolf-Jonas Ringen Kristiansen.