Eva Charlotte Berner from Progress Party Youth and Håvard Skogerbø from Changemaker were two of seven Norwegians who at 02:45 AM Monday morning were stopped by Moroccan police and deported northwards from South Morocco. The groups intended to visit occupied Western Sahara.
Published 18 January 2016
"The police officers walked quickly into the bus, down the aisle and straight up to us. They ordered us out of the bus and explained that we were not to proceed any longer", stated Eva Berner, leader of Progress Party Youth of Oslo.
At 02:45 AM, they were placed in a car and deported direction Agadir.
"They explained that there were a number of terrorists further south", Berner told the Norwegian Support Committee for Western Sahara.
"The Saharawis is a suppressed people. The fact that we are not allowed to enter Western Sahara tells me that the human rights situation in Western Sahara is probably worse than what is accounted for in public", Berner stated.
Berner travelled with Håvard Skogerbø who studies development studies at SOAS in London, and is member of the Norwegian Church Kirkens Nødhjelps ungdomsorganisasjon Changemaker.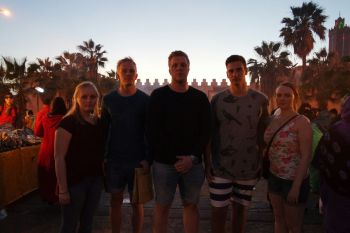 The incident took place near the south Moroccan town of Guelmim.
At the same time the two were ordered out of the bus and returned to Agadir, five other Norwegians came driving in a car from Agadir, direction Western Sahara. The five are among the leadership of the youth branch of the Norwegian trade union Industri Energi.
"We were given a variety of reasons by the police. First, they said that there is terrorism further south. Then they changed explanation , saying that there are fires and street riots. At the end we got a bizarre explanation that the reason for not allowing us to travel further was confidential", member of the Industri Energi youth council Espen Wennerberg told the Norwegian Support Committee for Western Sahara.
"However, the police told that we were warmly welcome back in a two days time. Later they changed that description to welcoming us back in one-two weeks", Maren Wilhelmsen told, leader of the Industri Energi youth, on phone from South Morocco.
In addition, Marius Holst, Heidi Bergestig and Eirik Torblå were members of the group.
During the last 24 hours, eight Norwegian delegations have been expelled from either Western Sahara or Morocco by Moroccan police.