Most of the oil arriving the occupied territories of Western Sahara arrive on board Norwegian flagged vessel, new report reveals. Swedish and Norwegian national news have covered the topic this weekend.
Published 22 June 2014
Photo above: Marinetraffic.com. Image shows 'Wisby Cedar' discharging oil in occupied Western Sahara.

The two tank vessels Wisby Cedar and Wisby Argan are travelling in and out of occupied Western Sahara - with Norwegian flags in the mast.

A new report from Western Sahara Resource Watch reveals that the two vessels in average transport half a million litres of oil, every single day, into the occupied territory. Without that oil, the occupation would be impossible to maintain. The shipments are done by the Swedish shipping company Wisby Tankers, who own the two Norwegian flagged vessels together with their Moroccan partners. Together, they own a joint-venture company Casablanca Tankers, which is the biggest transporter of oil products into Western Sahara, by far.

On 20 June, the affair was covered by Swedish national TV, SVT.

On 21 June, the topic was covered in Norwegian daily newspaper Dagsavisen.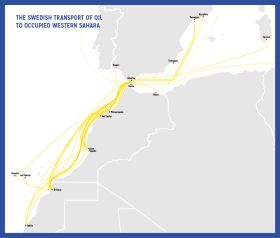 Since the vessels came into operation in 2009 and 2010, they have, in average, entered Western Sahara every 12 days with petroleum products.

Download the WSRW report 'Fuelling the occupation' here.

The volume is extremely high: WSRW estimates that the two vessels every year transport 194 million litres of petroleum products into Western Sahara with a probable value of approximately 106 million Euros. That would constitute most of the approx 250-280 million litres of petroleum products every year entering Western Sahara.

Wisby Tankers has been carrying out this trade for a decade and the petroleum it transports is used to uphold the occupation. It goes almost without saying that the Saharawis in Western Sahara also need petroleum products for civilian life-sustaining purposes. Yet, the petroleum is mostly used by the Moroccan administration, army, settlers and for plunder of the territory's rich natural resources. Without the oil imports the illegal occupation would be practically impossible to maintain. The petroleum originates from refineries in Spain, including on the Canary Islands.