The Chairwoman of the Norwegian Support Committee for Western Sahara, and her Polish travel companion were expelled from South Morocco Friday evening.
Published 02 May 2014
Norwegian citizen, Magnhild Bøgseth (25 years), and Polish Jakub Skrzypczyk (27 years) have the last few days been in occupied Western Sahara and in South Morocco to meet with human rights activists and to document the opinion of the people of Western Sahara in relation to the illegal Moroccan oil exploration in the territory.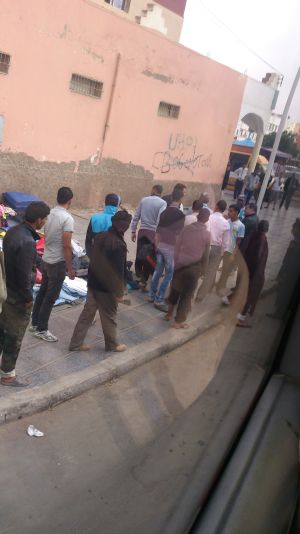 Friday 2 April at 17:00 European time, they were stopped by police in the town of Tan Tan, South Morocco, and ordered to leave.

"He twisted my hand and pushed me into the bus with force", Bøgseth wrote in an SMS to the Support Committee half an hour later, at 17:40 European time.

"6-7 people pushed Jakub into the bus by force", she wrote. The image to the right shows the group of the policemen after the incident had happened (click for high resolution).

"Now we are in the bus on our way out of the city, but have no clue where the bus is taking us", she stated.

From 5PM as the the two were stopped by the police, they were ordered not to speak on the phone by the police.

This is the second time in few days that the group has been harassed by the police. On 30 April, they were placed at a hotel by the police and ordered not to leave the hotel.

This is also the second time that Ms Bøgseth was expelled from Tan Tan. The same happened to her in 2012.

It is also the second time in 2 weeks that a Norwegian group is expelled from Western Sahara or South Morocco.