Five hopeful Sahrawi youth from the refugee camps were selected on Wednesday 14th of August for a two year International high school education at one of 13 United World Colleges (UWC) around the World.
Published 23 August 2013
The selected Sahrawi candidates will live and study alongside fellow students from more than 80 different nations and territories. This opportunity will not only strengthen the student's academic potential, but also give them a unique opportunity in sharing their story as well as learning about the World outside from their peers, gaining valuable experience in conflict resolution and intercultural understanding.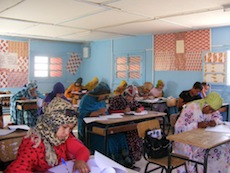 The selections are performed by the United World Colleges National Committee of Western Sahara (UWC Western Sahara), this being the sixth time a selection committee travels to the Sahrawi Refugee camps to find potential candidates since the establishment of the Committee in 2002. This year's selection committee consisted of one Norwegian and three Sahrawi UWC alumni. The students are selected strictly based on merit, irrespective of their financial and social background. Prospective candidates are short- listed according to their high school grade, their results in examinations performed by the selection committee and their application forms. Candidates are then selected based on a long interview where their knowledge, sense of national identity, aspirations, level of tolerance and reflective abilities are assessed.

You can find more information about the UWC movement on their website

UWC Western Sahara has their own facebook page where you can see more pictures from this year's selection process.