In the Norwegian newspaper Strilen today, the shipping company Fonnes Shipping denies they do something wrong when they take part in the plunder of Western Sahara. They blame their Dutch partner for the deal.
Published 30 May 2013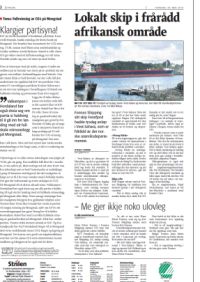 Full version of the article (in Norwegian) can be purchased on www.strilen.no
The shipping company Fonnes Shipping, headquartered north of Bergen, Norway, told the newspaper Strilen today that they do not consider relevant the Norwegian government's request to abstain from carrying out businesses in Western Sahara.
Their vessel Fensfjord is at this moment located on the coast offshore South Morocco, on way north, with a cargo it picked up in occupied Western Sahara yesterday. According to the company, the vessel is heading for Casablanca.
In an interview with Strilen today, Fonnes Shipping confirms the transport (translated to English by the Norwegian Support Committee for Western Sahara):
"We don't do anything illegal"
Strilen, 30.05.2013

Hans Petter Fonnes in Fonnes Shipping considers that the advice from the Norwegian government is not valid in this case.

M/V Fensfjord, a cargo vessel owned by the Austrheim shipping company Fonnes Shipping AS, on Tuesday arrived Western Sahara, a disputed territory that has been occupied by Morocco since 1975.

"Are you aware of the political situation in Western Sahara?"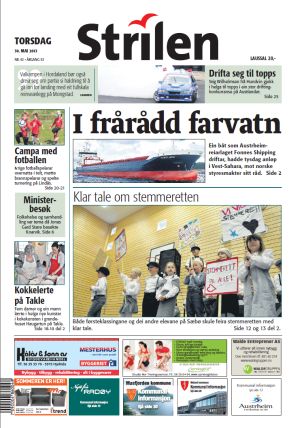 "Yes, we are", told Hans Petter Fonnes, who owns and manages Fonnes Shipping with his brother Roy Fonnes.

"The Ministry of Foreign Affairs urges Norwegian companies to not carry out business in this territory, but you had a vessel in El Aaiun on Tuesday. What do you think about that?"

"We dont do business in Western Sahara. The vessel is owned and operated from the Netherlands and is only managed from Austrheim", told Hans Petter Fonnes.

He explained that they are not the ones to decide what assignments the vessel has taken on.

"It is a brokering firm in the Netherlands that does that. We go where we are assigned to", he told.

According to Fonnes, the vessel took onboard sand in El Aaiun, to be transported to Casablanca, where it will be discharged.

"There is nothing illegal in what we do", told Fonnes.