Norwegian owned shipping company admits carrying out shipments from Western Sahara. In two recent articles in a Norwegian newspaper, the company received heavy criticism. "When Norwegian government urges companies to stay away from Western Sahara, one should try to follow those advice", said competitor.
Published 29 March 2013
Two articles in the Norwegian newspaper Bergensavisen looks into the controversial trade by the Bergen based shipping company Gearbulk, published 29 January and 30 January 2013. For more than a decade, the shipping company has transported phosphates from the occupied territory to New Zealand.

"Gearbulk does not behave responsibly", stated Therese Jebsen, director of the Rafto Foundation for Human Rights.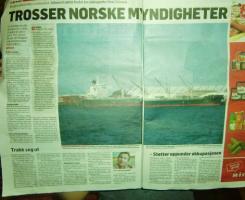 "It is beyond doubt that Morocco is an illegal occupying power, and that the Saharawis is the suffering and affected party to the conflict. This means that the business indirectly contributes to support the occupying power if they trade with Morocco for the natural resources from Western Sahara. The owners in Bergen should use their influence actively and demand that the company behaves responsibly", she stated.

"Gearbulk refers to long term contracts, and claims that they do not do politics. To that I want to add that it is not possible to relate neutrally to human rights violations: If you do not denounce or counteract violations, you contribute to increase the space for action for the oppressors", Jebsen said.

"It is a paradox that Gearbulk's owners are from the same city as the city that gave Sidi Mohammed Daddach the Rafto prize", stated a student from Bergen that met with Saharawi human rights activist Daddach in Western Sahara while the shipment arrived New Zealand.

The practice of Gearbulk is furthermore in contrast to what other companies in the city of Bergen has been doing after being confronted with the trade.

The text below, appearing in the 29 January 2013 article, is translated from Norwegian by the Norwegian Support Committee for Western Sahara.

"Withdrew"
Bergen shipping company R-Bulk transported phosphates from Western Sahara, but has now withdrawn. "Gearbulk should do the same", said chairman Christian Gerhard Sundt.

In 2008 it was known that the Bergen based shipping company R-Bulk had two vessels carrying phosphates from Western Sahara.

"We had chartered to vessels to a Japanese shipping company, and we were not aware that they shipped phosphates from the territory. We were also not aware that this was such a controversial topic. When we was made aware of this, we did what we could to stop this business. We do not want to be in conflict with anyone", said chairman of R-Bulk, Christian Gerhard Sundt to Bergensavisen newspaper. He still cannot guarantee that R-Bulk not will carry such goods from Western Sahara in the future.

"From what I know, we have not been in Western Sahara since, but I cannot guarantee it. In the new contracts we exclude the possibility for transporting goods from this territory, but in the old ones such a clause do not exist, and thus we cannot to otherwise than to request it not be done", he told.

"What do you think of the fact that vessels from Gearbulk still transport goods from Western Sahara?"

"They can do as they like, but as long as the Norwegian government urges companies to stay away, one should try to follow those advice. At the same time the shipping business experiences difficult times. One can't simply pick and choose among clients", said Christian Gerhard Sundt to Bergensavisen.

"The market disappeared"
Another Bergen based company that has been much covered in the media due to operations in Western Sahara, is the GC Rieber.

In 2010, Swedish broadcaster SVT revealed that fresh fish from occupied Western Sahara are processed and sold as Omega 3 health product capsules in Sweden. As an important part of the business chain, one found the Rieber owned company GC Rieber Oils. CEO of GC Rieber, Mr. Paul-Chr Rieber from Bergen, was at the time also the president of the Confederation of Norwegian Enterprise. When Norwegian customs investigated whether this fish oil imports was declared correctly, Paul-Chr Rieber withdrew from his posts in the business confederation.

The same year, GC Rieber stopped imports of fish oil from Western Sahara.

"We still do import fish oil from the geographical Morocco, but not from the conflict area Western Sahara. We stopped that in 2010", Rieber told Bergensavisen.

"Why did you stop?"

"It was no longer a market for it. The clients disappeared", Rieber said.

"People did not want to buy fish oil that had origin in this territory?"

"Yes, it was a lot of fuzz about it at the time", Rieber said.

The partly state owned salmon foods producer EWOS was among the clients that did not renew the deal with GC Rieber oils after this "fuzz"