In a wave of arrests and harassments has in the last few weeks taken place in Western Sahara. Today 10 leading human rights activists were detained when they were going to attend a trial against a colleague.
Published 27 August 2009
Arrested today:
-Brahim Dahane, President of the organization ASVDH
-Brahim Sabbar, General Secretary of the organization ASVDH
-Sultana Khaya, Vice President of Forum for Saharawi Women's Future
-Ahmed Sbai, ASVDH
-Mohammed Mayara, ASVDH
-Bachir Khadda
-Hassan Dah
-Hassana Aalya
-Sidi Sbai
-Lahbib Gasmi
This group of 10 people was on their way to Tan Tan in southern Morocco, where the Saharawi activist Enaama Asfari was on trial today. Asfari, with a French wife, has on several occasions been arrested and tortured under interrogation.
The picture above shows several members of the group, when they were supposed to attend the trial against Asfari originally scheduled for 23 August. The trial was then postponed to today.
At 17:00 Thursday afternoon they were still being held at the police station, without any formal charges against them. They were detained this morning.
The group was stopped in a police control led by the Moroccan police officer Mustapha Kamouri, who has previously served in El Aaiun in occupied Western Sahara. Kamouri has on several occasions been accused of torturing arrested Saharawi, but these accusations have never been investigated.
Hassan Aalya, among the detained, is reported to have received injuries to the head and has been transported to hospital. Location unknown.
The Norwegian Support Committee will return with updates on this matter.
Sultana Khaya
, was beaten blind on one eye by police violence in 2007.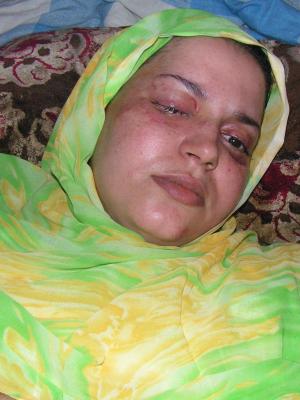 Brahim Sabbar
, General Secretary in ASVDH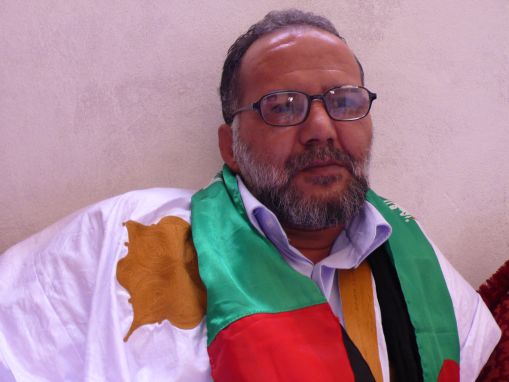 Mohamed Mayara
, ASVDH