Tuesday the mayor of Trondheim, Mrs. Rita Ottervik, and deputy mayor, Mr. Knut Fagerbakke, invited peace activists Shirin Ebadi and Elkouria Amidane for lunch and talks in city hall.
Published 24 February 2009
Trondheim County
Photo: Carl-Erik Eriksson/Trondheim County
24 February 2009

Shirin Ebadi from Iran was the first Muslim woman to receive Nobel's Peace Prize (in 2003). Ebadi is lawyer and was one of the first female judges in the country. She is known as a human rights defender and participates these days as lecturer and guest of honour at the International Student Festival in Trondheim (ISFiT), Norway.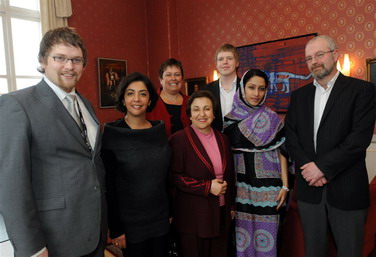 Shirin Ebadi from Iran was the first Muslim woman to receive Nobel's Peace Prize (in 2003). Ebadi is lawyer and was one of the first female judges in the country. She is known as a human rights defender and participates these days as lecturer and guest of honour at the International Student Festival in Trondheim (ISFiT), Norway.

Elkouria Amidane from Western Sahara also participates as ISFiT lecturer. But the 23 year old Elkouria is also here to receive the Students Peace Prize which is given in the Olavhallen Concert Hall Friday night. Amidane receives the award for her work for human rights in Western Sahara, which has been occupied by Morocco since Spain withdrew from the country in 1975.

The occupation led to refugees fleeing the country, and today most Sahrawis live in refugee camps on the border to the occupied area, while they wait to return. Amidane has worked to tell the world about the violations of human rights committed by Moroccan authorities against students and the Sahrawi people.

Priverdig cooperation between ISFiT and the county
In the talks with Mrs. Ottervik and Mr. Fagerbakke, Amidane told about the situation in Western Sahara, about human rights violations, and about Morocco's occupation of the country in violation of international law. Shirin Ebadi told about the increasing poverty in Iran, which creates an increasingly flow of refugees out of the country.

As representatives of respectively ISFiT and the Students Peace Prize, Ruben Haugan and Thor Richard Isaksen participated at the meeting with the mayor. On behalf of the students, Isaksen thanked the mayor for having invited Amidane and Ebadi on talks about the situation in their home countries.

"It means a whole lot for both the Students Peace Prize and for ISFiT that we have such a good cooperation with Trondheim county", said Isaksen.

Translated to English by the Norwegian Support Committee for Western Sahara