Read the shocking testimony of the Sahrawi student, Sultana Khaya Sidi Brahim, who lost her eye from the police beatings last week.
Published 15 May 2007
We organized a sit-in of solidarity with the Sahrawi students at University IBNO ZOHR of Agadir, who were victims of savage attacks. Then we organized a march from the faculty of the Rights, passing by the Faculty of Letters, towards the campus of the University Alqady Ayad of Marrakech. There we were surprised by the violent intervention of all the Moroccan security bodies, secret and official.

I was the first of the victims because I was targeted directly. The agents of the forces had made a circle around me and were beating and kicking me with their bludgeons and their feet, following this my eye burst. And when I said to them that my eye had been touched, they put continue beating me on my eye.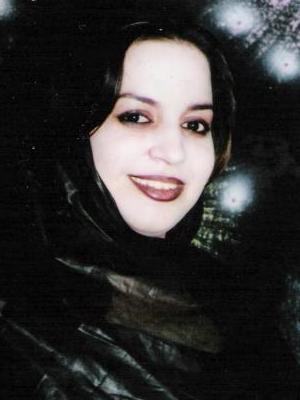 After one moment, these forces also brought Soumaya ABDEDAYEM, Elkouria AMIDANE and Abdelfatah ELYADASSYA. Indeed, we were asphyxiated by the teargas grenades, hot water and another product which I do not know. Said ELOUAABANE has be also wounded, and when I tried to remove his jacket which tore, I had wounds which resemble the burns because of the chemical product which was on the jacket. We were beaten and struck with kicks.

They kept us in the University City under continuous beating, during more than 40 minutes, until our bodies became just corpses. After that, they took us in an ambulance and tied our hands. Worse, we were also beaten in this ambulance. While we were beaten we were also insulted by racist insults. The team of the ambulance joined, also, our torturers by encouraging them to beat us while saying: "kill these Polisario". Some took us from our hair and knock our heads against the ambulance.

They led us towards hospital IBNO TOUFAIL. Although my eye burst, they did nothing but put a bandage on it. I believe it was a male nurse who had put the bandage without saying a word. They led us, then, towards the police station which is in Jamaâ Elafna. When we arrived at the hospital and on the road towards this police centre, we were slapped and struck with kicks unceasingly. When we returned in this centre, they started to take information relating to our identity.

Some policemen, who were upright close to us, insulted the Sahrawis, Polisario and its leaders, especially the president. They said to us: "listen to the true history of the Sahara. Morocco entered the Sahara by pity for these dirty and undeveloped people". Two hours later, they brought 25 students from the university city and obliged them to sit down opposite us. They also brought 12 Sahrawi students. We all were in a lamentable state and all covered of blood. They also obliged the 25 students to laugh and applaud as an attempt to torture us psychologically.

Between 23: 30 and midnight, I have vomited of blood. This is why I was led towards the Elmamounia hospital, in an ambulance. The doctor who saw me said that my eye burst and that they have to take me along to the Alantaki hospital and it is what was made. And during the way, I was still victim of beatings and kicks. At the Alantaki hospital, the male nurse said to me that they left and that they will not return any more and that I am under the responsibility for the hospital. They put me in a room with women without taking any care.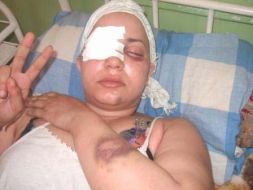 20 minutes after, a group of police officer arrived and evacuated me from the room by taking me by my hair in front of the women. At the door of the room I started to vomit blood another time. One of them gave me a kick and led me in another room where a woman alone was. After two or three hours, another team of police officer, of 8 people into civil, came to ask me to sign documents. I answered them that I can not manage to control my hands like all the parts of my body. One of them took my hand and started to make me write and sign documents which I did not manage to know the contents because my eye burst and the other was touched and inflated. They made me sign documents during almost an hour and they also put my prints. After they went and left two guards with me. One of them fell asleep on the bed which is close to me and the other sat down on a chair close to my bed.
In the morning, I asked a girl, who came to visit her mother, to call my family. I have written the telephone number to her on her hand. But when she left, the guards followed and threatened her. The girl returned while crying to say goodbye to her mother. And when I asked her to help it to go to the toilets, she did not even turn to me. After, they put me in a room all alone and I asked them to call my family many times. Around 11 of the morning, a nurse came asked me to buy surgical spins because I was to be operated on the eye. I answered her that all that I had as money had been confiscated by the police force and that I had to find a solution to call my family or one of my friends.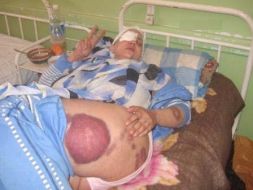 At this time, a policeman into civil came and required the number which I wanted to call. It is at this moment that I called one of my comrades who came with a great number of comrades among them one of my close parent who accepted that I can be operated.

My eye burst and my nose was broken and the images are without comment.

Sultana KHAYA, Alantaki hospital, Marrakech - Morocco.