Here are the Norwegian groups expelled from Western Sahara and southern Morocco in 2014.
Published 28 December 2014
This year, 2014, a majority of Norwegian delegations to Western Sahara were evicted from Western Sahara or from Southern Morocco. Two groups were stopped at checkpoint into the city of El Aaiun, Western Sahara and evicted from Western Sahara. Two groups were stopped shortly after having entered the city, and evicted. A fifth was expelled from Southern Morocco. A sixth group was not allowed to leave the hotel in El Aaiun. A seventh group was denied by Moroccan police to meet with Saharawis in Western Sahara. Two delegations were harassed at Marrakech airport upon departing Morocco.

Out of the ten delegations from Norway this year, only one managed to carry out its programme without facing evictions or harassment from Moroccan police. This latter group was only under constant surveillance.


Delegation 1:
17th April - 10th May 2014
Date of eviction: 19th April
Participants:
Kristina Nygaard (UK/Norway)
Joanna Allan (UK)

At the last police checkpoint before entering El Aaiun, Western Sahara, the delegation, consisting of Joanna Allan (UK) and Kristina Nygaard (Norwegian-British citizen), were told to step out of the bus. This was 19th April. After being questioned about the purpose of the trip, the police emphasizing if they knew anyone in Western Sahara, they were told they lacked "the right permissions from the prefecture in El Aaiun to enter the territory". The policemen also targeted Nygaard, accusing her of attempting to enter Western Sahara on a previous occasion. Nygaard refused that she had been there before. The policemen refused to let them enter El Aaiun, which resulted in Nygaard and Allan refusing to leave before they had a written note stating the grounds of the eviction. This was laughed at and refused by the police. The police threatened to, and attempted, to take their luggage and their phones. After an hour of protest Nygaard and Allan were expelled towards Agadir, Morocco.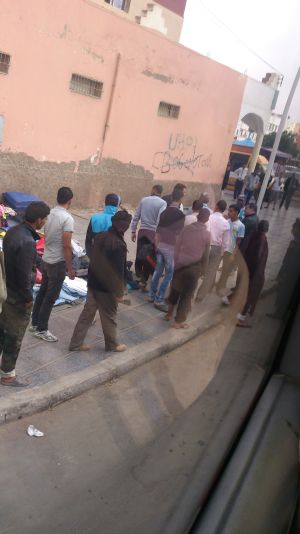 Delegation 2:
Travel dates: 26th April - 3rd May 2014
Date of Eviction: 2nd May
Participants:
Magnhild Bøgseth
Jakub Skrzypczyk (Poland)
Photo: Moroccan policemen in Tan Tan who had placed the group on the bus, seen through the bus window.

Bøgseth and Skrzypczyk had stayed in Western Sahara for four days when they were approached by plain-clothed policemen in the South Moroccan town of Tan Tan. The policemen denied them the use of a phone, and tried to confiscate their own cellphones. Bøgseth and Skrzypczyk were ordered to enter a buss, which were to take them to Agadir, Morocco. This was protested by Bøgseth and Skrzypczyk saying they would not take orders from someone who would not identify themselves. By the use of force, the policemen forced Bøgseth and Skrzypczyk into the bus ordering them out of Western Sahara. The reason for eviction given by the police was "There is nothing for you to see here, we know what you have been doing, there is nothing for you to see here".

Delegation 3:
Date of travel: 3rd - 10th May 2014
Date of Eviction: 4th May
Participants:
Almaz Asfaha
Eva Lien
Vilde Kjerkol

Asfaha, Lien and Kjerkol entered Western Sahara from Morocco. They passed two checkpoints, and at the last one they were refused entrance by the police. The police confiscated their passports. The police told them they were to be evicted due to "misinforming the authorities". At the airport in Marrakech, they had informed the authorities that they were tourists. When they were denied entrance to Western Sahara they asked for a written explanation. This request was first laughed at, and then denied by the police. Their passports were confiscated and only returned to them later. They were sent back to Morocco.

Delegation 4:
Date of travel: 3rd - 10th May 2014
Date of Eviction: 4th May
Participants:
Rasmus Rasmussen
Natalie Milde
Dan Marius Svendsen
Lone Lunemann Jørgensen
Photo: Backseat of a car, police escort, 4th May.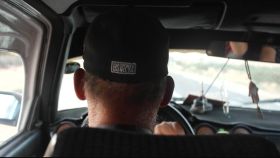 This delegation had several encounters with the authorities. 40 minutes after arriving El Aaiun, they were surrounded by 15-20 policemen. They were accused of "lying to the authorities" and for meeting "dangerous separatists and terrorists". The policemen confiscated their passports and sent the delegation back to the checkpoints. The passports were not returned to the delegation until the very end. Rasmussen, Milde, Svendsen and Jørgensen protested the actions of the policemen by asking for a written explanation to why they were kicked out. This request was denied by the police. Upon the question to why they were kicked out, the police answered "because we are the authorities". They also tried to get an explanation to where they were kicked out from; from Western Sahara, Morocco or Southern Provinces. They did not get such an explanation. However, the policemen answered "No, not from Morocco" to the question.

Delegation 5:
Date of travel:11th to 19th April 2014
Date of hotel-arrest: 16th April
Participants:
Johnny Håvik
Christina Beck Jørgensen

"We insisted several times to cross the street from the hotel, where a car was waiting for us. But they aggressively refused us to leave", Christina Beck Jørgensen stated. "They yelled at us stating that we could be robbed by criminals in the street, that there were no police patrols, and that they therefore could not allow us to leave the hotel [...] We have never seen this many police officers at one place. The idea that we are not allowed to visit our friends for our own safety seems odd, as there seem to be by far more officers than civilians in the city", stated Jørgensen. Read more.


Delegation 6:
Date of travel: 6th - 13th of December 2014
Date of Eviction: 10th December
Participants:
Bjørnar Østerhus Dahle
Kristina Vågen Fiskum
Photo: Moroccan police in Marrakech stalking the Norwegian delegation, seen through CTV of the hotel.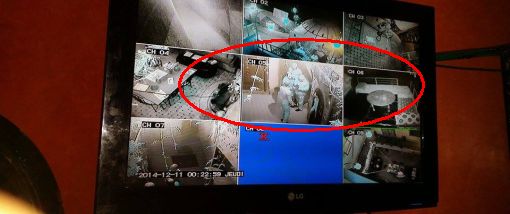 The two, both employees of the Rafto Foundation for Human Rights, were in their hotel room as the police knocked on their door at 07:50 in the morning on 10th December. The group had arrived only the evening before. "They refused to identify themselves", stated Dahle. Their passports were confiscated. Then they were forcefully pushed into a taxi and expelled. At the checkpoint leaving the city, their passports were returned. The group had traveled to Western Sahara to meet with a former laureate of the Rafto Prize for Human Rights, Mr. Sidi Mohamed Daddach, who has spent 24 years in Moroccan jails. Moroccan police kept full control over the delegation's movements during the remainder of the stay in Morocco.

Furthermore, two Norwegian delegations were harassed at Marrakech airport upon departure from Morocco. The police questioned why they had visited Western Sahara. Yet another was denied by the Moroccan police to meet Saharawis as they arrived El Aaiun. "It is strictly forbidden", the police told.