Sultana Khaya, who visited Norway last year, has once again been assaulted by the police during a demonstration. Amnesty expressed concern about the assaults on peaceful demonstrators.
Published 07 April 2013
In connection with UN Special Envoy to Western Sahara Christopher Ross's visit to the territory before Easter, Sahrawis demonstrated peacefully in the capital, El Aaiun.

The demonstrators were met by hordes of plainclothes policemen, several of whom threw rocks at and beat up the Sahrawis present. Several Sahrawis were injured during the assault. Among those assaulted and harassed were Sidi Mohammed Daddach, winner of the Rafto Prize, and Sultana Khaya, who in 2012 gave speeches in a series of Norwegian cities about the assaults in the occupied territory.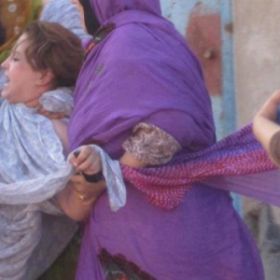 "It was 5PM and we had just started the demonstration, when the police turned up", stated Khaya on phone to the Norwegian Support Committee for Western Sahara.

"They began to beat us. One of them hit me in the face. Few minutes later they carried me into a police car where I was tied to a chair and harrassed. They threatened to rape me", Khaya stated.

Khaya told that when she was carried on the street, the policemen touched her body, under the clothes.

"Afterwards I was dumped outside of the city, and I had to walk all the way back. In the end I met a Saharawi that lent me his phone, so I could call to ask for help. Tell the people in Norway that we need international protection", Khaya stated.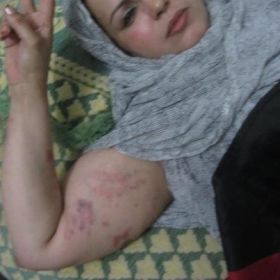 The UN's operation in the area, MINURSO, stands as a silent witness to the assaults, since it does not have a mandate to either intervene or to report what is happening.

The assaults "highlight the need for human rights monitoring by MINURSO," Amnesty International said in a statement this week. MINURSO's mandate is up for extension at the end of April, but the human rights monitoring is not expected to be a part of the mandate. Both Morocco and France refuse to let the mandate be extended to include this.

Amnesty International calls on Moroccan authorities to uphold "protesters' rights to express their views peacefully and to fully investigate the events in which at least a dozen protesters were reportedly injured, and hold to account those found responsible."

See also the videos below made in Western Sahara this Easter week: